"Zukie vs the World" at TT Underground
TT Underground, NY-based retailer Toy Tokyo's gallery space, is having a custom toy show featuring Zukie, a character created by artist Alison Perez. "Zukie vs The World" is a collection of different artists and toy customizers showing their take on Perez's character.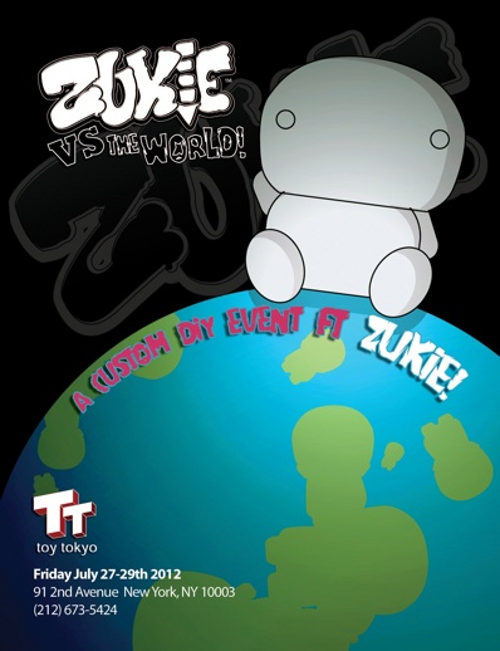 The artists roster list includes Adam Pratt, Alarment, AW177, Benny Kline, Blazon Brikhaus, Brian A, CashCannon, Chris Moore, Cyberpunk, Davemarkart, David Kraig, Ian Chapman, James Fuller, Jasin Dollin, Jeff Beck, Josh Marlar, Josh Mayhem, Ken Ziobro, LEWNATIK, Melodreama, MikeDie, Miss Zukie, Mr.Den, OsiRisORon, Scott Kinnerbrew, Shawn Wigs, Tasha Zimich, Travis Lykins, VIOLENT CRATCHIT, YoMi, Zam Art, and Zukaty.
The opening reception for "Zukie vs The World" is July 27, 2012, from 6-9PM. The show is up only for that weekend, so if you're in the area be sure to stop by to check out all the customs Zukies on display.
Source: TT Underground