Watermelon & Strawberry Caveys
We're less than a day away from the latest Caveys by A Little Stranger. Get a taste of summer with Watermelon and Strawberry Caveys, perfect flavors for this time of year.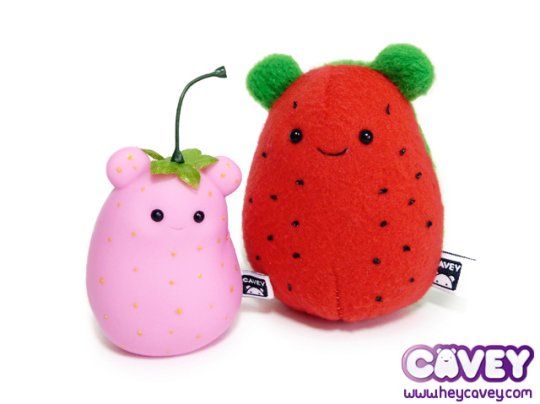 Watermelon Cavey is a plush made with fleece, complete with two different color sides and seeds to resemble a yummy watermelon. If you're not into the plush there will be a vinyl Strawberry Cavey that will also be on sale, complete with painted seeds and stem.
Both Caveys are limited edition-there will be 50 Watermelon Caveys on sale with the Strawberry Cavey limited to 20 pieces. Both go on sale later today, August 14, 2013, at 8PM London time (or 3PM USD) in the Hey Cavey shop. Watermelon Cavey will go for £16 GBP (or a little over $24 USD each) and Strawberry Cavey will be £15 GBP (or a little over $23 USD each).
Source: Hey Cavey