"TOUMA's 10th Anniversary Tribute" by Javier Jiménez
Check out this tribute to TOUMA's 10 years as a freelance artist. This piece was created by Spanish illustrator Javier Jiménez aka Exoesqueleto de Vinilo and features three TOUMA characters. As Jiménez describes:
The illustration is a tribute to Japanese artist TOUMA's 10th anniversary as freelance. I got hooked to vinyl toys because of TOUMA's characters and his work is one of my main influences, so I just wanted to make something special for him.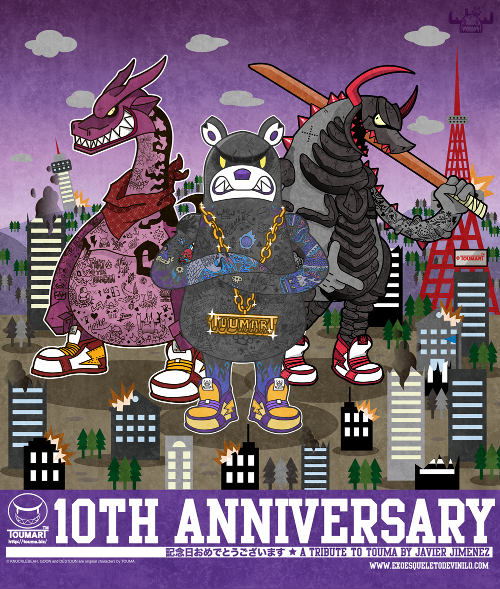 There's a little bit of more toughness than what we're used to, but there's just something about it that we can't ignore. Maybe it's all three characters covered in tattoos. Either way, we think Jiménez has done a good job!
You can see more of Jiménez's original work, including his original L.A. Kaiju FAM characters, on his website exoesqueletodevinilo.com and features three TOUMA characters. We're loving the tees!