"TOUMA & Friends" at Munky King
Tonight is the opening of LA-based store/gallery Munky King's new art exhibit TOUMA & Friends. The show is in celebration of Japanese character designer TOUMA's 10 years in the industry and contributions as a freelance figure artist.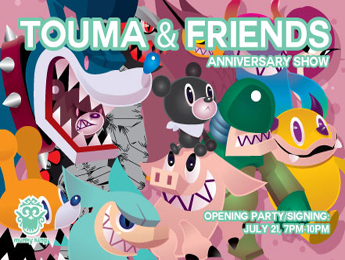 The show will include new works from TOUMA, Aguru Mukai, Bwana Spoons, Christopher Mitchell, Chikuwaemil, Tm Tsui, Mori Chack, David Horvath (Uglydolls), Nathan Hamill, Emilio Garcia, Frank Kozik, Jesse Hernandez, Kaijin, Kenny Wong, Luke Chueh, Devilrobots, Mark Nagata, Satoshi Yoshioka, Scott Tolleson, Shojono Tomo, and Tristan Eaton.
In addition, TOUMA will be at the show to meet fans! TOUMA & Friends opens tonight, July 21, 2012, and runs until August 12, 2012.
Fun fact: some of TOUMA's previous work includes the Powerpuff Girls (one of our childhood favorites!)
Source: Munky King