Huck Gee has a very limited released toy out this week. It's a two-piece toy based on his Cluttermunk character. This Cluttermunk rides on top of what we think is a cuter version of a ninja turtle.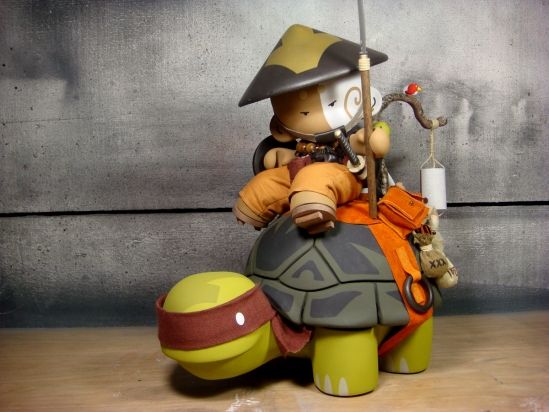 "A ClutterMunk dreams of bold adventures… of being a great warrior munk… an honorable zen ronin, travelling the land, following the path of bushido. A masterless samurai pursuing noble tasks, helping the unfortunate and standing up to evil oppressors. He dreams the life of a powerful, mystical warrior, chasing tales of legendary demons and ogres. Battling great monsters and banishing the living dead!

Is this what a ClutterMunk dreams?"
The Ronin is limited to 10 pieces and are priced at $1800 USD per set. While this figure will not be available for purchase online, you can get one by email. Check out the source link for the exact email address on how to get your own Ronin!
Source: HuckGee.com