Spritelings "Votter" Kickstarter
We've recently stumbled upon Spritelings, a Virgina Beach based company that specializes in make super cute toys. They recently opened a Kickstarter project to help raise money for a new plush toy called "The Votter" and we're intrigued by the project.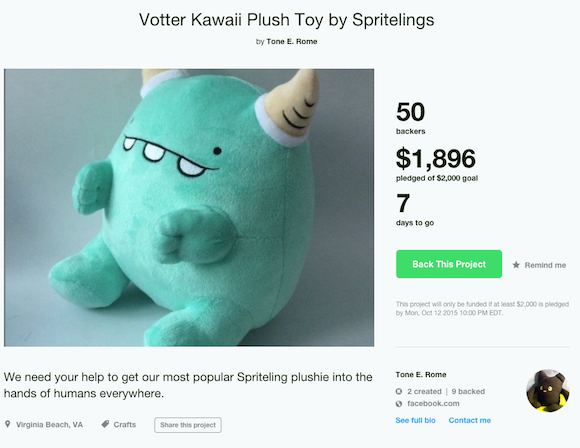 As per their fundraising campaign, the Votter is "vampiric otter with vicious claws, eyes built for hunting, razor sharp fangs and a body built for predatory domination." But we rather hug one of our own instead of running away from one! The Kickstarter includes different incentives for backing like stickers, resin toys, various colorways of Votter, and other Spritelings plushes.
This Kickstarter will be takings backers until October 12, 2015, at 10PM EDT. As you can see, they're super close to their goal with a week left to go on their deadline. Help make the newest addition to the Spritelings family become a plush reality! You can back up this project by clicking here. To see other toys produced by Spritelings be sure to check out their online shop.
Source: Spritelings on Kickstarter