"Revolver Girl" Barenaked Edition by Rotobox x KusoVinyl
Have you met "Revolver Girl" yet? Don't think that just because she's in a towel that she's vulnerable. Designed by Rotobox and produced by KusoVinyl, there have been a previous version of her already produced for other merchandise (check out the KusoPop online store to see some). This version of her is called "Barenaked" and was first available at this year's SDCC. Now the vinyl toy is up for purchase in the KusoVinyl online store.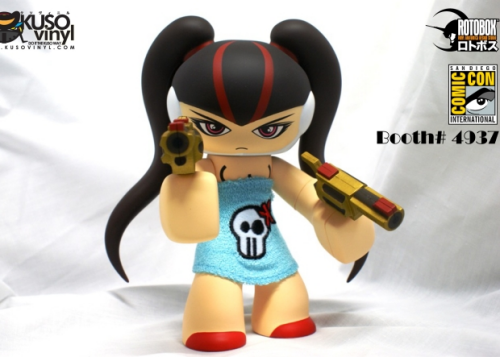 The "Revolver Girl" Barenaked Edition is 7 inches tall and comes with two guns, a removable towel, and a mini comic. She's limited to 100 pieces worldwide and is priced at $75 USD. She's a little bit of sweet and a little bit of danger. But she's definitely not afraid to throw down at any moment.
Source: KusoVinyl