Nemori's "Brightfield Bunnies"
Nemori, a series of custom toys created by LunaBee and Cris Rose, will be releasingnew toys this week. Last month it was bears, but this month is all about the rabbits. Introducing the Brightfield Bunnies, five happy-go-lucky lop-eared rabbits that will bring extra sunshine to your day.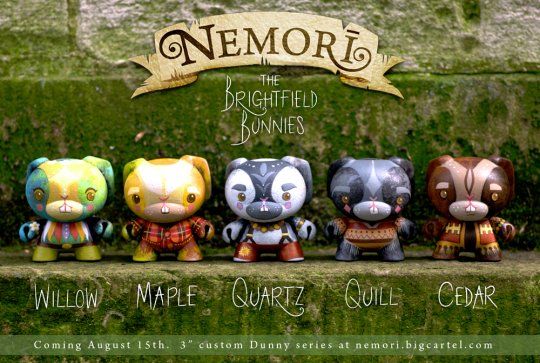 The Brightfield Bunnies are carefree folk from the lush valley known as Brightfield. Unlike the inhabitants of Burntwood, these lop-eared chaps are far less interested in hard work and industrious uses of their time; they'd rather sing, dance and be merry in the summer sun.
The Brightfield Bunnies are 3 inches tall and made of resin and vinyl. The customs are $80 USD each and are exclusively available at the Nemori online store starting August 15, 2013, at 8PM London time, or 3PM EST.
Source: Nemori