"Nautical Nonsense" at Nucleus
Tomorrow marks the opening of a new exhibit over at California-based gallery Nucleus. This exhibit, titled "Nautical Nonsense," is a tribute to the popular "Nicktoon" Spongebob Squarepants. Nickelodeon and the gallery have teamed up together to create a show featuring the yellow sponge and friends (and enemies).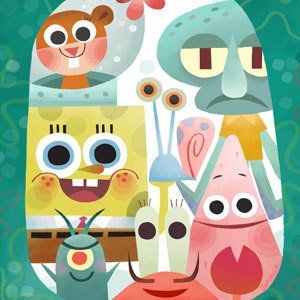 Not only will there be art work on display, there will also be original works directly from the show thanks to Nickelodeon. Opening night is July 27, 2013, from 7PM to 10PM. Activities at the show include a scavenger hunt, raffle, a "jumping jelly fish" booth, and human sized Spongebob and Squidward. In addition, some of the artists featured in the exhibit will at the show to meet and greet with attendees.
"Nautical Nonsense" will be up until August 11, 2013. If you're unable to go to the show all pieces available for sale will be on the Nucleus website.
Source: Nucleus