Joe Ledbetter "Burger Bunny: Thanksgiving Day Parade" Print
Before we can start getting excited for December, we have to acknowledge the first days that kicks off the holiday season. We're talking about Thanksgiving! So to celebrate Turkey Day Joe Ledbetter has a print on sale featuring his Burger Bunny participating in the popular Thanksgiving Day Parade with Ledbetter's bunnies as float attendants. Watch the Burger Bunny float as it flies through the Manhattan skyline.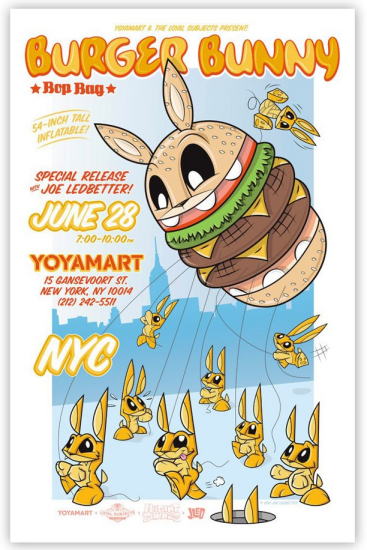 This print was originally on sale at New York-based store Yoyamart as part of Ledbetter's Bugger Bunny Bop release party this past summer. This art is on sale again, but this time all proceeds will go towards relief effort for those who were affected by Hurricane Sandy.
The print 11x 17 inches in size and is limited to 50 signed/numbered/watermarked copies. Get some bunny art (and help out those that we hit by Sandy) for $50 USD in JLed's online store.
Source: Joe Ledbetter on Facebook