"House of Daydreamers by Yoskay Yamamoto" at Giant Robot
Opening tomorrow at Giant Robot is a solo art show by Los Angeles-based artist Yoskay Yamamoto. The show will feature Yamamoto's paintings and more on display at the show.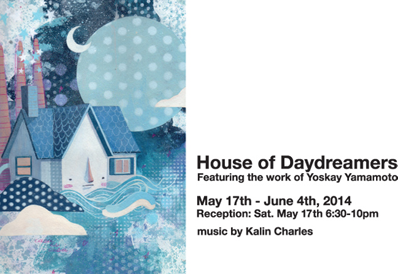 Yoskay Yamamoto is a treasure in Los Angeles. As thoughtful and charming as his presence at various exhibitions, he's also a developed creator. His painted imagery is unmistakable and his 3D work which is often hard carved is whimsical and precious. Yamamoto will be creating numerous flower sculptures along with paintings, and as usual, will create an enchanting installation.
Yamamoto will be at the opening for the show to meet and discuss his work. The show will be up until June 4, 2014.
Source: Giant Robot