"Happy As Kings" by Cuddly Rigor Mortis at Nucleus
Double event night at Nucleus! Come check out the "Happy As Kings" exhibit at the gallery, a collection of new original works from artist Kristin Tercek aka Cuddly Rigor Mortis. All the works are inspired by "Happy Thought," a poem by Robert Louis Stevenson, and they all carry a cute theme of kings with just as cute minions. Check out this super kawaii piece below: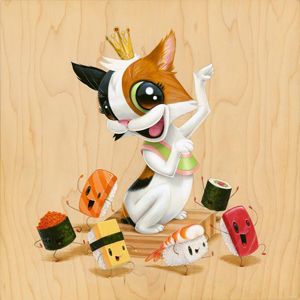 The opening reception will be on September 6, 2014, from 7PM until 10PM. Cuddly Rigor Mortis will also be at attendance to meet fans. If you're unable to make to the opening the show will be up until September 21, 2014. You can also purchase prints of the works online through the Nucleus shop.
Source: Nucleus