"Cosmic Bump" By Chillingo
We've just discovered "Cosmic Bump," a fun game from UK publisher Chillingo and developer Orca Inc. The main characters of the game are cute aliens that need your help to collect energy to fix their crashed spaceship. You work through various puzzles spread over six levels or planets.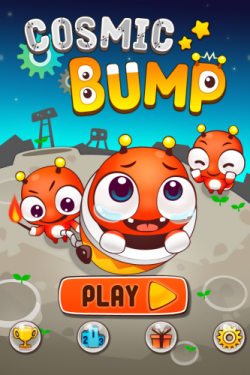 The little aliens' spaceship has run out of juice and they have crashed to earth! It's up to you to fire these cosmic cuteys out of cannons to collect the energy cells scattered throughout each stage! Cosmic Bump combines the addictiveness of a great arcade game with mind-boggling puzzles!
Cosmic Bump is currently available only for iOS 4.0+ devices (iPhone, iPod touch and iPad) and costs $.99 USD. There's also more planets that you can unlock in the game for an additional $.99 USD. You can download this app in the iTunes store today!
Source: iTunes