Cavey "Birthday Cupcake-veys"
If the new Cavey colorways weren't cute enough for you, A Little Stranger announced more products that are being released for Cavey's Birthday Celebration earlier today. Get a look at the yummy goodness of these "Cupcake-veys" toys.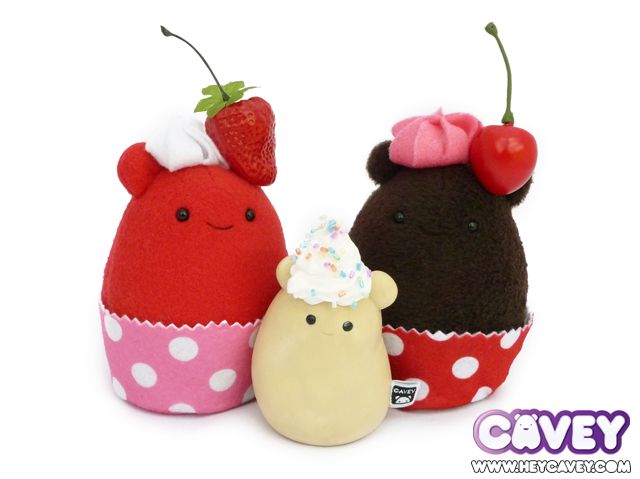 There's two Cavey plushes and one vinyl Cavey. The Cherry Chocolate Cupcake-vey and Red Velvet Cupcake-vey both come with adorable cupcake accents (Chocolate comes inside of a red and white polka-dot wrapper with a cherry on top while Red Velvet is in a pink and white polka-dot wrapper with a strawberry on top). Vinyl Birthday Cake-vey is custom painted with frosting and sprinkles on top.
All three Cupcake-veys are limited edition; the Cherry Chocolate and Vinyl Birthday Cake-veys will be available at the Cavey Birthday Party/Custom Show at Fleet River Bakery in London. Any leftovers from the party will be up on sale in the Hey Cavey store. The Red Velvet Cupcake-vey is an online-only release that will go on sale on June 3, at 3PM EST along with the other birthday goodies.
Source: Hey Cavey