"Anpan Pizza Shtyle" by nemu*nemu
Love dance crazes, adorable puppies, or yummy pizza? How about all three???
The gang at nemu*nemu has a new shirt with one of their pups dancing and paying tribute to the cheesy delight. "Anpan Pizza Style" is a funny parody of K-Pop enetertainer PSY's hit Gangnam Style, but unlike the catchy song we see us loving this longer. Check out the design below-the pup is even wearing PSY's trademark sunglasses!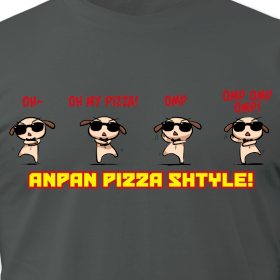 The tees are $25 USD each and are available in sizes for the whole family (kids and baby included) in many colors. Order your shirt over at .
Source: nemu*nemu on Facebook