"Alchemy" at Screaming Sky Gallery
It's about a week into the Alchemy exhibit at Screaming Sky Gallery in Portland, OR. The show spotlights works from Portland-based artist Kalina Torino. "Alchemy" shows abstract qualities like the senses (sight, hearing, smell, touch, and taste) as well as the four elements (earth, air, fire, and water). Here's a couple of our favorite pieces from the show: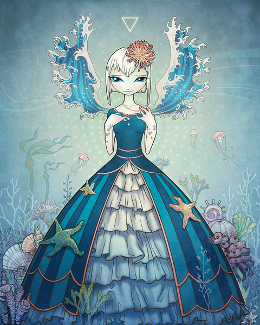 We love how Torino illustrated the four elements-they look like winged goddesses! It's also pretty creative as how Torino shows the five senses combining what looks like children with related animals.
You can see more of the show online now, as well as purchase work from the show, here. Alchemy is opened until August 26, 2012.